Harit K. Bhatt, M.D., M.B.A, F.A.C.S., FASRS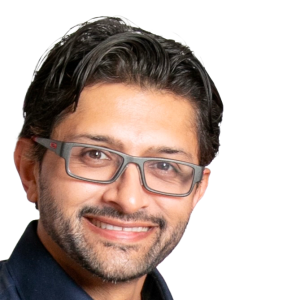 Harit K. Bhatt, M.D., M.B.A., F.A.C.S, FASRS., is a board-certified ophthalmologist and vitreoretinal surgeon. He specializes in the medical and surgical diseases of the retina, vitreous, macula and uveitis. He also is a part of the clinical faculty at the University of Illinois at Chicago. He is expertly trained and skilled in the management of complex vitreoretinal and uveitic diseases. Dr. Bhatt utilizes the latest technology in the management of age-related macular degeneration, retinal vascular occlusions, diabetic retinopathy, retinal detachment surgery, macular hole surgery, diabetic surgery, and epiretinal membrane surgery. He is also one of the few retina specialists worldwide trained to use the NAVILAS computer-navigated retinal imaging and laser treatment system.
Dr. Bhatt has been centered in the Chicago-land area since his early childhood. He graduated from Bishop McNamara High School in Kankakee, Illinois and received his undergraduate degree with Honors in Biology at the University of Illinois at Chicago. During his undergraduate training, he was a member of the Honors College, Phi Beta Kappa Honors Society, and one of only twenty-five University Scholar Award recipients in his entire class. Dr. Bhatt received his medical degree from the University of Illinois at Chicago. After a medical internship at MacNeal Hospital in Berwyn, Illinois he completed his ophthalmology residency at the Illinois Eye and Ear Infirmary where he served as Chief Resident. Following his residency, he completed a two-year medical retina and vitreoretinal surgery fellowship at Northwestern University where he served as Chief Fellow.
In addition to his own training, Dr. Bhatt has been dedicated to educating medical students, residents, fellows and new physicians. He participates in the education curriculum at numerous Chicago-land hospitals, such as Advocate Christ Medical Center. Additionally, he is committed to clinical research and participates in clinical trials involving new medications, drug-delivery devices, and surgical instruments. Dr. Bhatt has authored and collaborated on several peer-reviewed publications, meeting lectures, and textbook chapters. He is also co-author of the new edition of the Massachusetts Eye & Ear Review Manual for Ophthalmology. Additionally, Dr. Bhatt is an active member of the American Academy of Ophthalmology and American Society of Retina Specialists. Dr. Bhatt is Board-Certified by the American Board of Ophthalmology.
Dr. Bhatt sees patients in Bedford Park, Illinois. He is on the medical staff at Advocate Christ Medical Center in Oak Lawn, Illinois, and at Advocate South Suburban in Hazel Crest, Illinois. Dr. Bhatt is fluent in English, Spanish, and Gujarati.