Spotlight Case
TRNT1 associated Retinitis Pigmentosa (RP)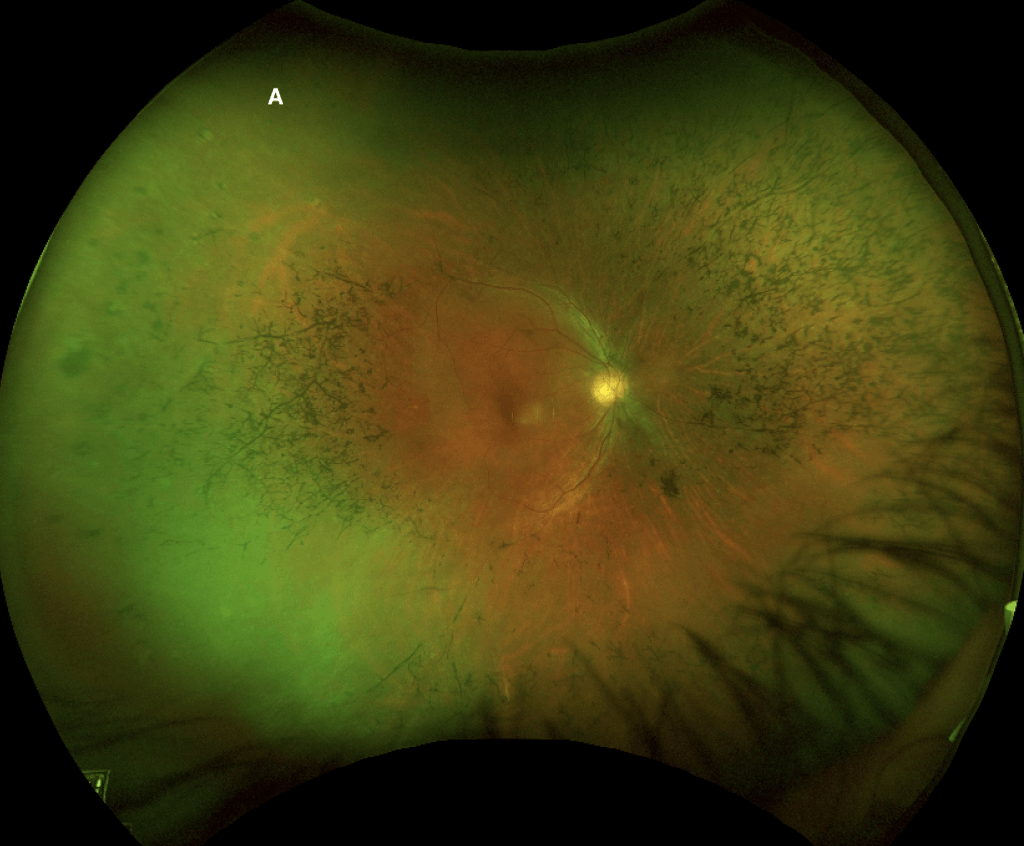 Patients with retinitis pigmentosa can retain good central vision and needs to remain on the differential diagnosis for a peripheral pigmentary retinopathy, especially with bone spicules.
Overview
Case History
A 62 year old M presents with blurry vision in both eyes and difficulty seeing at night. The patient has no known history of any eye issues, and no family ocular history. The past medical history was positive for hypertension. Review of systems was negative.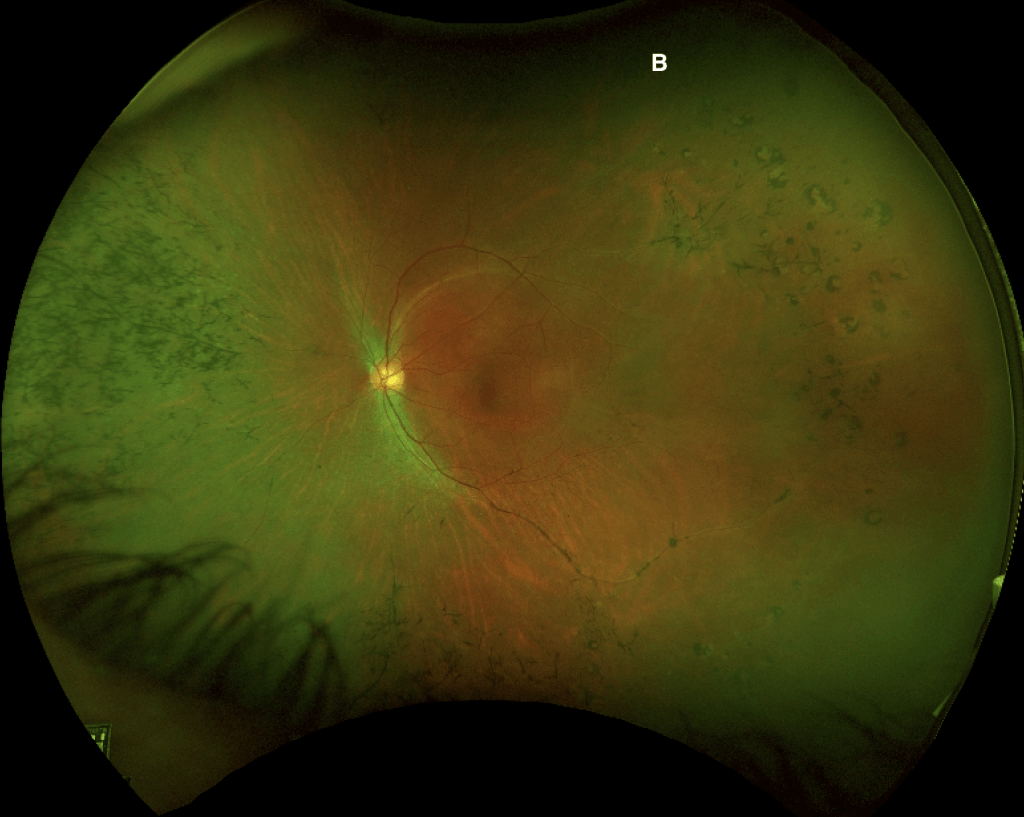 The patient's Snellen acuity was 20/50 in the right eye (OD) with pinhole improvement to 20/25 and 20/30 in the left eye (OS) with pinhole improvement to 20/25. The intraocular pressure (IOP) was 18 mm Hg OD and 22 mm Hg OS. The anterior segment examination was unremarkable outside of trace nuclear sclerosis in both eyes (OU). Examination of the posterior segment revealed scattered bone spicules throughout the periphery OU (figure 1). There was significant vascular attenuation OU as well as optic nerve pallor OU (figure 1). Spectral domain optical coherence tomography (SD-OCT) revealed loss of the ellipsoid zone and outer retina OU, but more so OD (figure 2). Fluorescein angiography (FA) showed normal filling time with extensive window defects and blockage corresponding to the bone spicules and vascular attenuation, there was no leakage (figure 3). Fundus autofluorescence (FAF) showed extensive hypo-autofluorescence surrounding the vascular arcades and extending into the retinal periphery with hyper-autofluorescence in the macula OU (figure 4).
Discussion
Retinitis pigmentosa (RP) is a heterogenous group of disorders that is characterized by progressive vision loss, degeneration of the retinal photoreceptors leading to bone spicule pigmentation, poor night vision and visual field defects1. RP may be syndromic and include systemic findings such as obesity, deafness, polydactyly, renal disease, diabetes mellitus, ataxia and central nervous system abnormalities1. The most common form of syndromic RP is Usher syndrome2, which is characterized by RP with neurosensory hearing loss and posterior subcapsular cataract. However, a majority of RP is non-syndromic accounting for 70-80% of cases4. As one of the most common retinal dystrophies, RP affects 1.5 million patients worldwide3 with a prevalence of nearly 1:5,0004.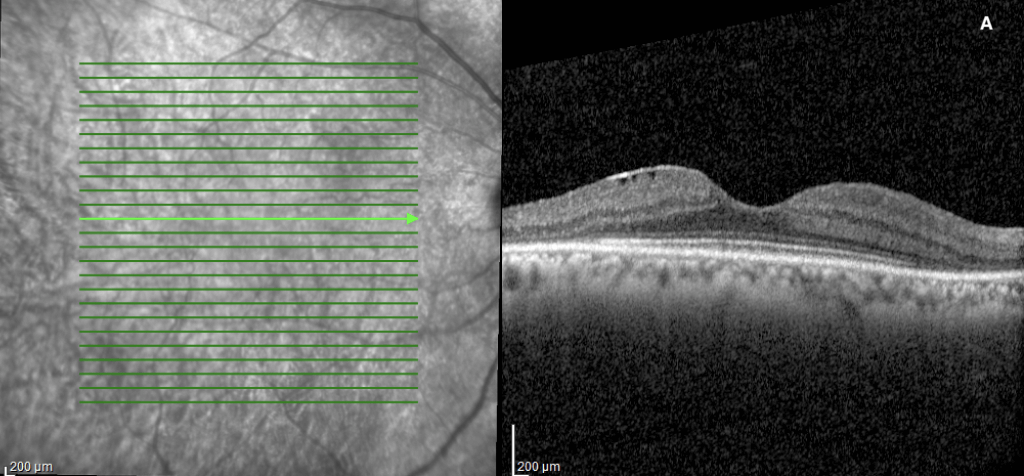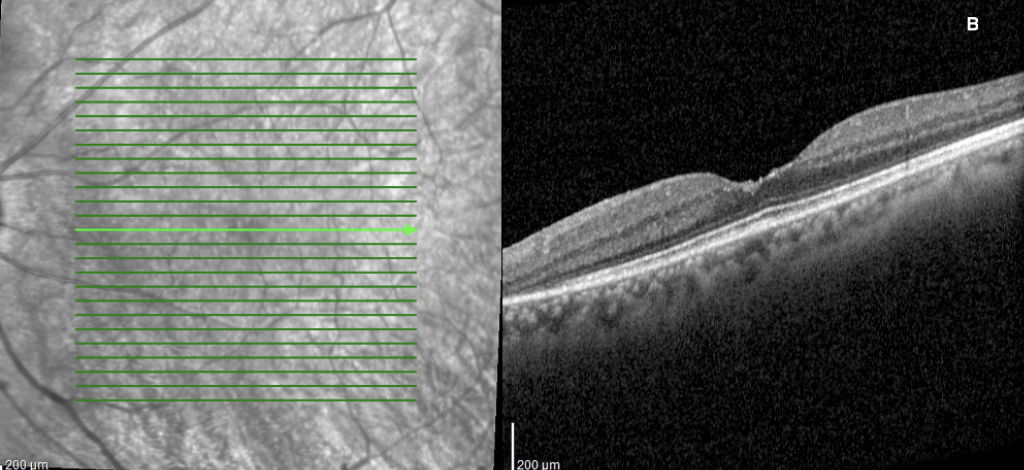 Figure 2: SD-OCT of the right (A) and left (B) eyes. Note the nasal and temporal ellipsoid zone and outer retinal loss nasal and temporal but foveal sparing of the right eye. The left eye has less extensive atrophy, mostly noted nasal.
The severity of disease can be correlated with the mendelian inheritance pattern. Patients with X-linked RP (5-15%) have the most severe disease3. Patients with autosomal dominant inheritance (30-40%) have the best prognosis3. Patients with autosomal recessive inheritance make up ~50-60% of RP.
Our patient above had genetic testing completed via the Invitae company inherited retinal disorders panel which can test for up to 330 genes. 293 genes were analyzed. The report showed that the patient was heterozygous for a pathologic mutation in the TRNT1 gene. The TRNT1 gene (tRNA nucleotidyl trasferase 1) codes for a protein that functions by catalyzing the addition of a CCA nucleotide triplet to tRNA molecules in the cytosol and mitochondria5. The TRNT1 mutation has been shown to cause a rare syndrome of sideroblastic anemia with immunodeficiency, fevers, developmental delay in childhood (SIFD), as well as retinitis pigmentosa with predominately ophthalmologic features6. Our patient had no other history or findings to suggest SIFD, however the patient was referred to his primary care physician to evaluate for possible hematologic abnormalities as there have been reports of patients with RP and erythrocytic microcytosis.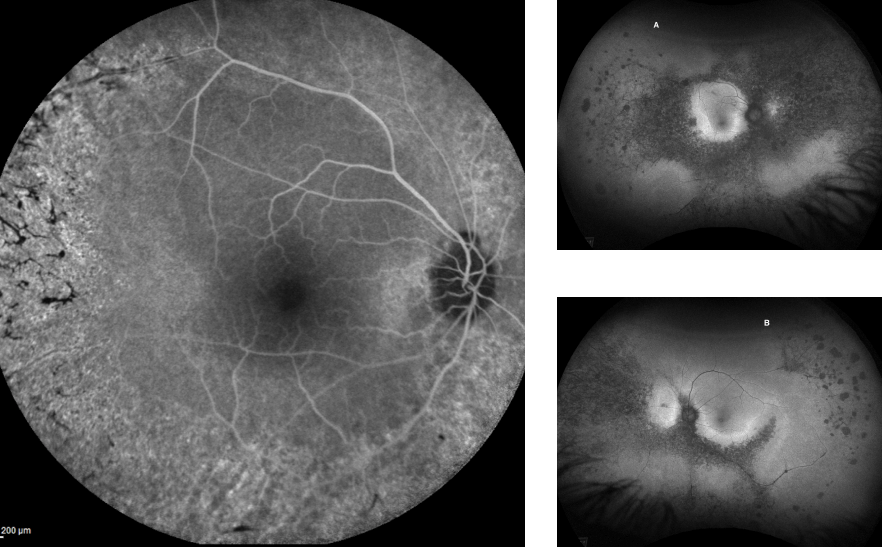 Authors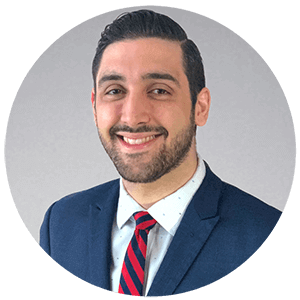 George Skopis, MD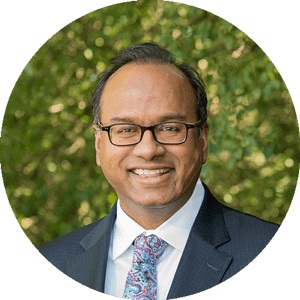 Rama Jager, MD, MBA, FACS