Meena S. George, M.D., Ph.D., FASRS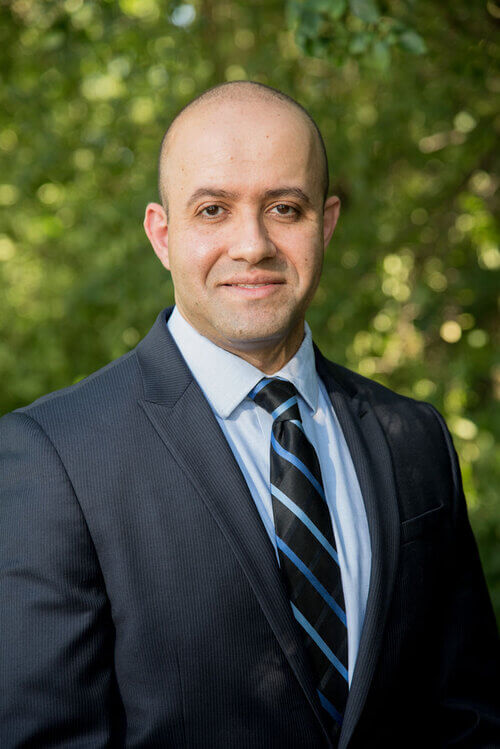 Meena George, M.D., Ph.D, FASRS is a board-certified ophthalmologist and vitreoretinal surgeon. He serves on the clinical faculty of The Illinois Eye and Ear Infirmary at the University of Illinois at Chicago.
Dr. George has expertise in the medical and surgical diseases of the retina, macula, and vitreous as well as uveitis. He utilizes the most advanced medical and surgical techniques to treat a variety of conditions, including age-related macular degeneration, retinal vascular occlusions, diabetic retinopathy and diabetic tractional detachments, rhegmatogenous retinal detachments, macular holes, epiretinal membranes, and proliferative vitreoretinopathy. He also diagnoses and treats retinal degenerative conditions, such as retinitis pigmentosa.
Dr. George completed his ophthalmology residency at the prestigious Jules Stein Eye Institute at UCLA and a two-year vitreoretinal surgical fellowship at the USC Eye Institute, both of which are consistently ranked among the top ophthalmology programs by US News and World Report.
Dr. George is board certified by the American Board of Ophthalmology and is an active member of the American Society of Retina Specialists and the American Academy of Ophthalmology. Dr. George has authored numerous scientific papers. He is dedicated to the surgical teaching and mentoring of vitreoretinal fellows, residents, and medical students. He is also involved in clinical research, including national trials for age-related macular degeneration, retinal vascular occlusion, and diabetic retinopathy.
Dr. George was born and raised in New Jersey. He completed his Bachelor of Science in Computer Engineering from Columbia University, graduating Summa Cum Laude. He has done pioneering work on Artificial Vision for the Blind using a cortical prosthesis during his time at The Dobelle Institute. Dr. George then received his medical degree from Columbia University and also attained a PhD in Neurobiology and Behavior from Columbia as part of the Medical Scientist Training Program. He subsequently completed his internship year at Memorial Sloan-Kettering Cancer Center in New York.
Dr. George enjoys spending time with his family, traveling, playing tennis and basketball, and watching football. He is fluent in English, Spanish, and Arabic.
He provides care for his patients at Downers Grove, Lombard and Oak Forest, Illinois.