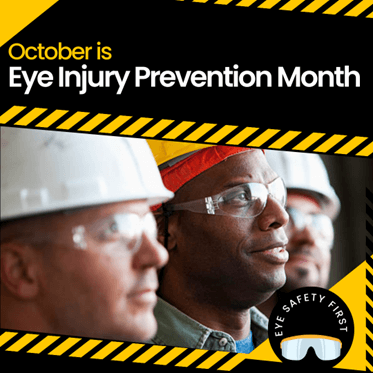 October is not just the month of all things pumpkin spice, caramel corn, or the spooky holiday of Halloween but also Eye Prevention Month. Protecting your eyes from injury is one of the simplest things you can do to keep your eyes healthy throughout your life. Check out a few surprising facts about eye injuries by the American Academy of Ophthalmology.
Facts About Eye Injuries
Most people believe eye injuries are most common on the job — especially in factories and construction sites. However, nearly half of all eye injuries occurred in the home.
Home repairs, yard work, cleaning, and cooking caused more than 40% of eye injuries. More than a third of those injuries happened in the kitchen, bedroom, bathroom, living room, or family room.
More than 40% of eye injuries yearly are related to sports or recreational activities.
More than 78% of people were not wearing eyewear at the time of injury, and only about 5% wore safety or sports glasses.
Men are more likely to get an eye injury than women.
The sun can damage the eyes just like objects, such as chemicals and dust. Always wear sunglasses or sport-appropriate UV-protective goggles.
What is the First Aid for Lacerations or Scratches to the Eye?
It is essential to schedule an appointment with your eye doctor as soon as possible; even if the injury seems minor, check out these care and treatment recommendations if you have an eye injury.
Keep Your Eyes Healthy
About 2.5 million people suffer an eye injury each year in the United States, and nearly 1 million people have lost their eyesight as a result. Doing everyday chores was when half of these eye injuries occurred. Whether cleaning the house, working in the yard, or fixing the car in the garage, the American Academy of Ophthalmology urges every household to have at least one pair of ANSI-approved protective eyewear. "ANSI-approved" means the protective eyewear is made to meet the safety standards of the American National Standards Institute. If you or a family member experiences an eye injury, seek medical attention immediately.
Have a Happy and Safe Eye Safety Awareness Month!

References: American Academy of Ophthalmology The content is researched and vetted by the American Academy of Ophthalmology and the American Optometric Association. This blog provides information and discussion about eye health and related subjects. The content provided on this blog and any linked materials are not intended and should not be considered medical advice. If the reader or any other person has a medical concern, they should consult with an appropriately licensed physician.
---