Feast Your Eyes On Healthy Foods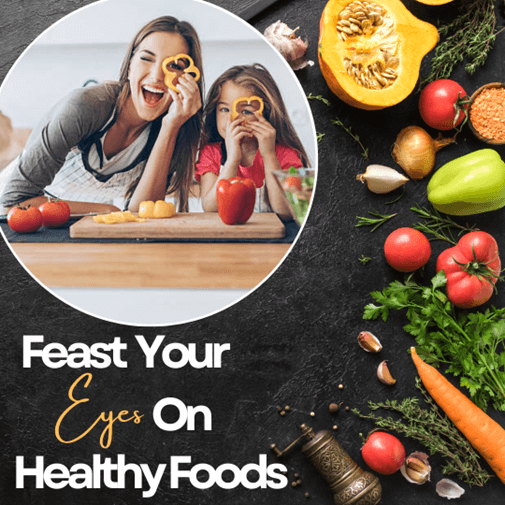 Did you know that healthy eating habits may delay age-related macular degeneration? According to the National Institutes of Health, it takes an average of 66 days for a new behavior to become automatic. Healthy eating is not just good for your eye health, but your overall health, and developing a healthy eating habit is always a good custom to incorporate into your daily life.
Approximately 10 million Americans suffer from Age-related Macular Degeneration (AMD), a disease that is the leading cause of vision loss in people 65 years or older in the United States. Unfortunately, there is no cure for AMD; however, eating foods rich in zeaxanthin, omega-3 fatty acids, beta carotene, lutein, vitamin C, vitamin E, and zinc may reduce the risk of AMD or slow its progression in some people.
Fish Can Lower AMD-Risk
According to the American Academy of Ophthalmology, studies found that women who ate fish high in omega-3 fatty acids at least twice a week were less likely to get age-related macular degeneration (AMD).
Fish is not only good for your eye health, but it is also good for your heart. The American Heart Association recommends that healthy adults eat fish at least twice weekly. Some fish contain high mercury levels and should be eaten sparingly or avoided entirely during pregnancy. Talk to your doctor about what fish is healthy to eat if you are pregnant or become pregnant.
Low-Glycemic Index Diet
People at risk for diabetes or age-related macular degeneration (AMD) can benefit by following a low-glycemic index diet.
With diabetes, blood sugar levels can get too high, which causes serious health problems and can lead to vision loss. Some foods cause rapid spikes in blood sugar (high-GI), while others raise blood sugar moderately (low-GI). You can avoid quick blood sugar spikes with low-GI food swaps:
Oatmeal over-sweetened breakfast cereal
Brown rice over white rice
Whole-grain bread over white bread
Sweet potato over a baked potato
Nuts over potato chips
Establish Eye-Healthy Habits
No matter your age, it is never too late to start eating healthy! Start eating healthy TODAY to benefit the goodness for your eyes and overall health for the rest of your life. Also, make it a priority to schedule an appointment with your eye doctor for an eye exam.

References: American Academy of Ophthalmology, American Optometric Association, American Heart Association, and the National Institutes of Health. This blog provides information and discussion about eye health and related subjects. The content provided within this blog and any linked materials are not intended and should not be considered medical advice. If the reader or any person has a medical concern, they should consult with an appropriately licensed physician
---